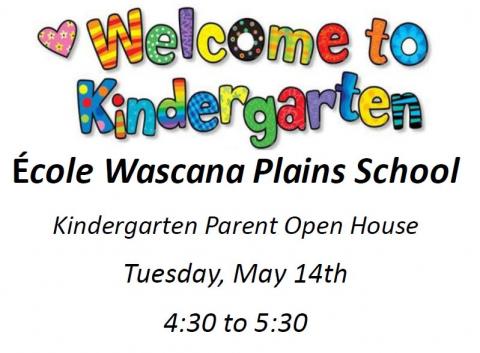 Parents of new kindergarten students are welcome to come tour the school, meet the teachers and see the classrooms!
We offer programs in English or French Immersion. 
Your child must be 5 years old on or before December 31, 2019.  Please bring your child's birth certificate and a copy of their immunization records.
If you are not available to attend the open house there are registration forms available on the École Wascana Plains website, www.wascanaplains.rbe.sk.ca. You can also send us an email at wascanaplains@rbe.sk.ca or call the office at 306-523-3770.  (While you are on our website sign up for our newsletter!)
Please note that Wascana Plains school boundaries are closed. In order to attend our school children must live in or be cared for in our attendance area. To find out if we are your home school, go to the Wascana Plains website and under the "About Us" tab click "transportation" click on the Transportation Eligibility Feature and type in your address or your caregiver's address.